Educate | Equip | Engage | Cradle to Career
The Forsyth Promise facilitates education-focused collaborative, community-wide planning and action. We provide a framework to help all community stakeholders work together toward the goal of improved educational outcomes for Forsyth County's students — from cradle to career. Our core values are Educational Equity, Inclusive Stakeholder Engagement, and Data-Driven Decision Making.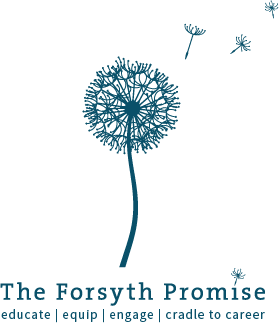 Vision: Every child in Forsyth County receives the best education possible and is fully equipped to thrive throughout life.
Mission: The Forsyth Promise supports the success of every child, from cradle to career through the development and alignment of community resources.
Action Networks
Action Networks are the impact engines of The Forsyth Promise. Their purpose is to convene stakeholders for facilitated, collaborative planning and action to improve educational outcomes for students in Forsyth County.
Community Leadership Program
Inclusive stakeholder engagement is a core value of the Promise; we work to ensure that community voice is fully integrated into our systems change work.
Be The Change
The Promise hosts quarterly Be The Change convenings to provide:
networking and relationship-building opportunities among stakeholders,
community-level awareness and learning around critical issues in education,
an opportunity to gather community perspectives, opinions, and feedback,
and updates on collaborative progress towards positive educational change in Forsyth County.
The Forsyth Promise is a member of the national StriveTogether Cradle to Career Network. The national Cradle to Career Network was launched as a way to connect communities who are building cradle to career civic infrastructure using the StriveTogether Framework. The Network enables members like The Forsyth Promise to share expertise, identify and adapt best practices, and develop effective tools and resources that can be brought to bear on specific challenges. Learn more.