What is Transition to Kindergarten?
The Transition to Kindergarten program is part of the WS/FCS Office of Early Learning. It seeks to raise awareness of the importance Kindergarten, and help families with young children prepare to start Kindergarten ready for success.
Ready Freddy is our community's Kindergarten mascot. Freddy (a life-sized cartoon frog) makes ongoing appearances at events throughout the county to get kids excited about Kindergarten and raise awareness among parents about how to help young children prepare for Kindergarten success. Early work to bring Ready Freddy to Forsyth County came out of the Promise's Kindergarten Readiness Action Network.
The Transition to K Curriculum (TKC) is all about connecting schools with families of young children. The TKC includes six lessons designed for parents and students to participate in together, with an emphasis on meeting participants where they are. The six lessons use games, stories, and play to help children and parents understand how to work together to get prepared for Kindergarten success.
Project Vision
All of Forsyth County's children start Kindergarten on time and prepared for success.
Learn More
To get connected or learn more, contact Vanessa Osborne, Transitions Coordinator for WS/FCS, at vmosborne@wsfcs.k12.nc.us.
Other Featured Strategies
Latest Transition to Kindergarten Updates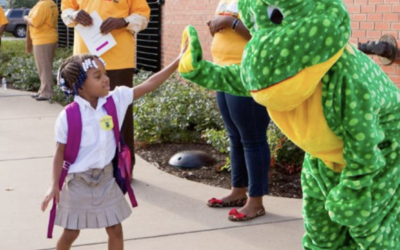 The Transition to K program is currently piloting in seven elementary schools: Easton Elementary Forest Part Elementary Gibson Elementary Kimberly Park Elementary Kimmel Farm Elementary Petree Elementary Union Cross Program staff are pursuing funding opportunities to...